wedding breakfast guest table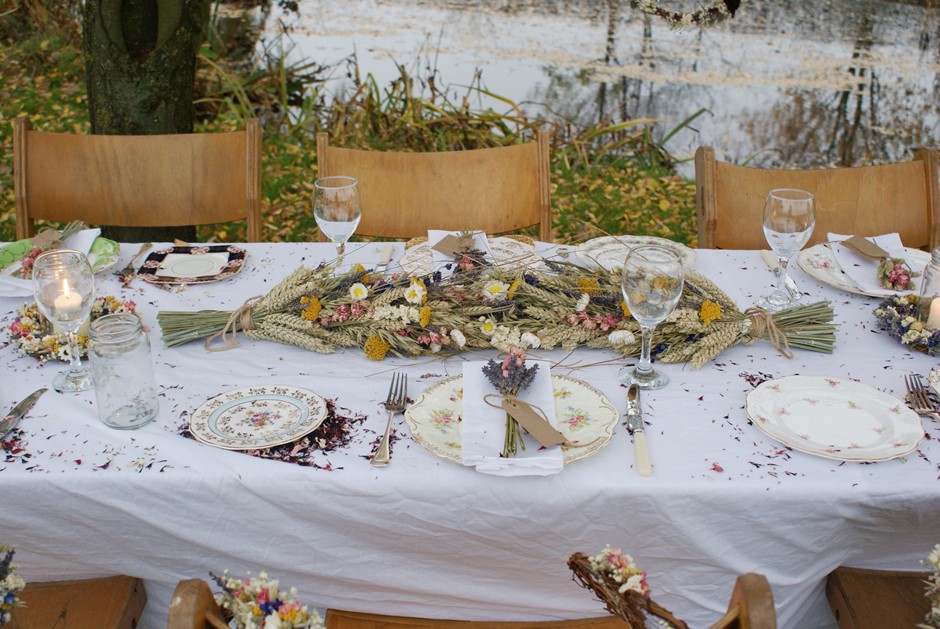 There are two main types of tables used for guests at a wedding, the first is a long table where the guests are seated either side and the second is a round table. Here we have focused on the long table, mainly because we ran out of light on the day of the photo shoot !!.
For long tables it is important not to have flower designs that are too wide and high, play with the height along the middle using jars, bottles, garlands and our willow baskets. Mix the collections up with flowers from a similar colour. In our online shop you can view the designs by colour groups e.g Pinks.
For round tables, seating 8 to 10 people our large jar posies work well by themselves or with some petals sprinkled around them. The smaller designs also work well if placed in trios to create the round shape in the middle of the table such as one of our small jar posies, with a medium size jar posy and then perhaps a bottle with some flowers from our bunches section that you can easily arrange yourself.
Some of our brides also buy our bridal bouquets and untie them and split them down to make their own arrangements into bottles, jars etc.
The outside of our jam jar posies can be decorated with ribbons and fabrics to match your theme, or they can easily be transferred into one of your own containers, as they arrive already tied.
Hanging hearts and wreaths on some of the chairs is also a nice touch.
At the end of the day these flower designs will also make great gifts and mementos of your wonderful day.