FAQs
When should I place my order ?
All our items are handmade to order, so we recommend ordering at least four months before your wedding date.
During the peak wedding season ( April to Sept ) delivery may take longer, so you are advised to order as early as possible to ensure availability. Currently we are experiencing a very high number of orders.
Please insert your wedding date in the comments box at the checkout stage, your order will then be delivered approx one month before this date, to ensure the items are at their very best.
Once the order is placed online, we will then confirm the estimated dispatch week for your order. Payment in full is required at the time of placing the order.
How long will the flowers last ?
They are at their very best for around 3 months, but will last for months if not years, as long as they are kept away from direct sunlight, in a room with no damp or moisture and not too much heat.
Can I take my flowers abroad ?
If you are planning on taking your dried flowers abroad, then please do your research and check that your courier/airline and country of destination will accept them.
Our single bouquet box size is 52cms x 25cms x 25cms. If you are ordering more than one bouquet then it may be sent in a larger box 35cms x 35cms x 60cms. Some of our brides forward the bouquets to their country of destination using a courier instead of an airline for peace of mind. All of our Hair and Buttonhole boxes are suitable for hand luggage on board

. Please insert into the comments at the checkout stage if your wedding is abroad.
How are the flowers delivered ?
A signature is required for all of our parcels, so if you are likely not to be home, then please use another delivery address.
The customer is responsible for providing a valid delivery address. We will not accept liability if a parcel is lost due to an incorrect address.
From May 2022 all our parcels will be sent by DPD next day tracked and signed for delivery service.
We use our own bespoke boxes which have been designed just for us, to ensure they are not damaged during transit.
There may be some loose petals inside the box during transit, but this will not affect the look of your design.
How much does it cost for delivery ?
Our postage and packaging charges are as follows:
Mainland UK Delivery ONLY - £7.95 per order
Certain Scottish/Highlands postcodes may encurr additional costs, so please check with us first before ordering.
Can I make any design changes ?
Very sorry we do not offer a bespoke design service, but we can make small changes to designs, as long as you use the flowers and colours that are in our online shop.
Please get in touch with us first and then we can advise if it is possible and if there is an additional cost and how to place your order.
Our business ethics and code of conduct are very important to us, which is why we are happy to consider bespoke orders, but NOT copying any other companies designs. Most reputable designers and companies also follow this code of conduct.
Proud member of A©ID: Anti Copying In Design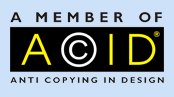 How do I look after dried flowers ?
Please keep them in a dry room away from direct sunlight which will make the colours fade, in a room with no moisture or dampness which could make the flowers go mouldy, and away from any heat which can cause the flowers to become very brittle.
What is your Returns & Refunds Policy ?
All of our flower designs are handmade to order and are perishable and delicate so regretfully we do not accept any returns.
If you have received a damaged item, then please contact us within 2 days of receipt, to discuss a refund or replacement.